Donation Form
Purpose: 100% of donated funds go for the promotion of digital currency
on Capitol Hill, and protecting the rights and interests of BitCoin owners.
7 Step Lobbying Plan for Each Representative

For each $90 worth of BitCoins, we will spend about 3 hours to:
1. Make an appointment with a Congressman or Senator office of your choice
preferably in your state or congressional district, giving us a good lead in.
2. Go to their office in the House or Senate Office Building on Capitol Hill
3. Make a presentation, preferably to the politician, or his staff member
4. Help the person to get set up with an account, such as CoinBase
5. Send a small gift of .0001 BTC (well under the $50 limit) to get started,
build their understanding, and makes them a stake holder in digital currency.
6. Follow up with them in the next days with a thank you message and cc: to you
7. Remind them to resist any legislation which would restrict digital currency.
Donations also help us pay for our prestigious K Street office address,
brochures, better business cards, Metro travel, presentation materials,
and a better web site.
You can donate any amount at the addresses below.
For a receipt, please email us with the transaction id.
Ethereum (ETH), ERC20, or HEX

0x86a493154334e7CeE74Bb42c253A994EE4f489F0


MScv7SXCmgq4cHYE8BvwTEb23bnytp16dk

Bitcoin Cash (BCH)

qzhrtug2mdfdt9a5206jwg6afqq6np6xtgv8pkucre

Over 100 alternative coins at

CoinPayments.Net

For those who prefer the "traditional" system of credit cards: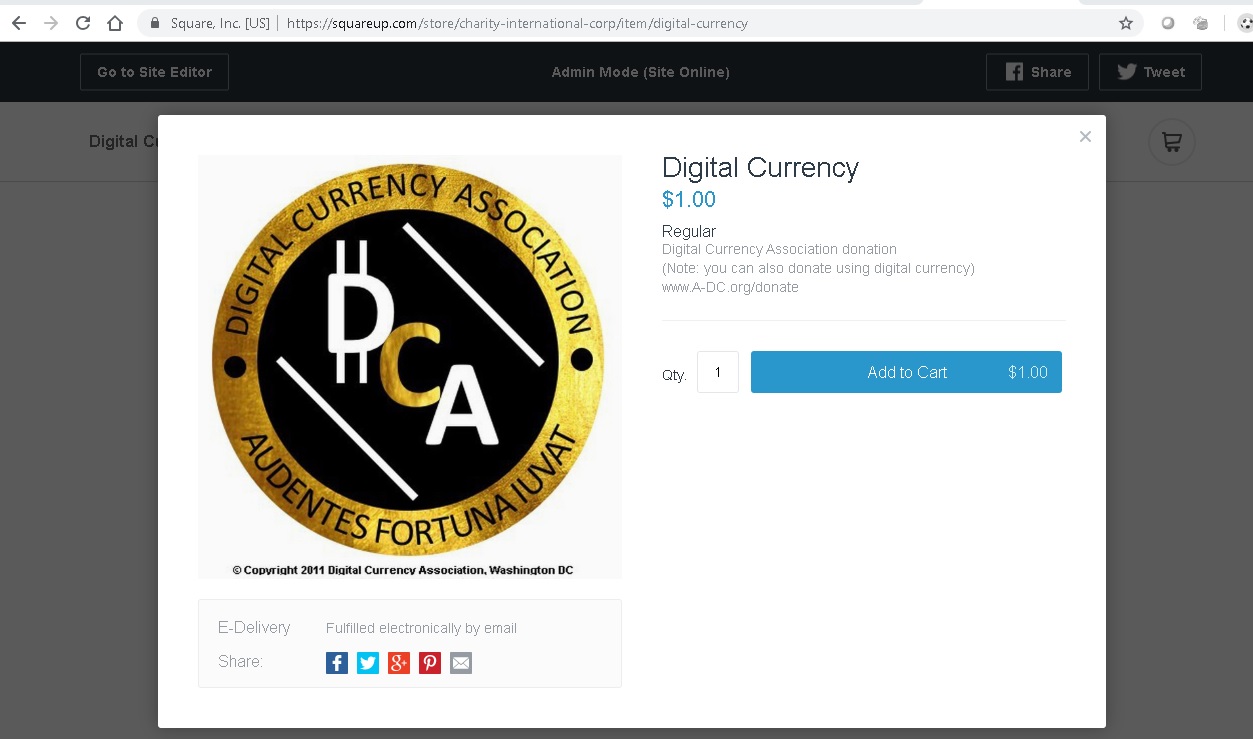 https://charity-international-corporation.square.site




You can also send a check to:
Charity International Corporation
a 501(c)(3) tax deductable donation
Memo: Digital Coin Association
1629 K Street NW, Suite 325
P.O. Box 71112
Washington, DC 20024
Questions or problems please email info@A-DC.org
We thank the donors so far
Payments posted updated every week
| | | | | |
| --- | --- | --- | --- | --- |
| Site | Date | Donor | Amount | Balance |
| A | 11/01/2012 | Rick S. | $500 | $500 |
How to make a Quick Response code
Digital Coin Association
Supporting acceptance of digital currency
202-980-7200